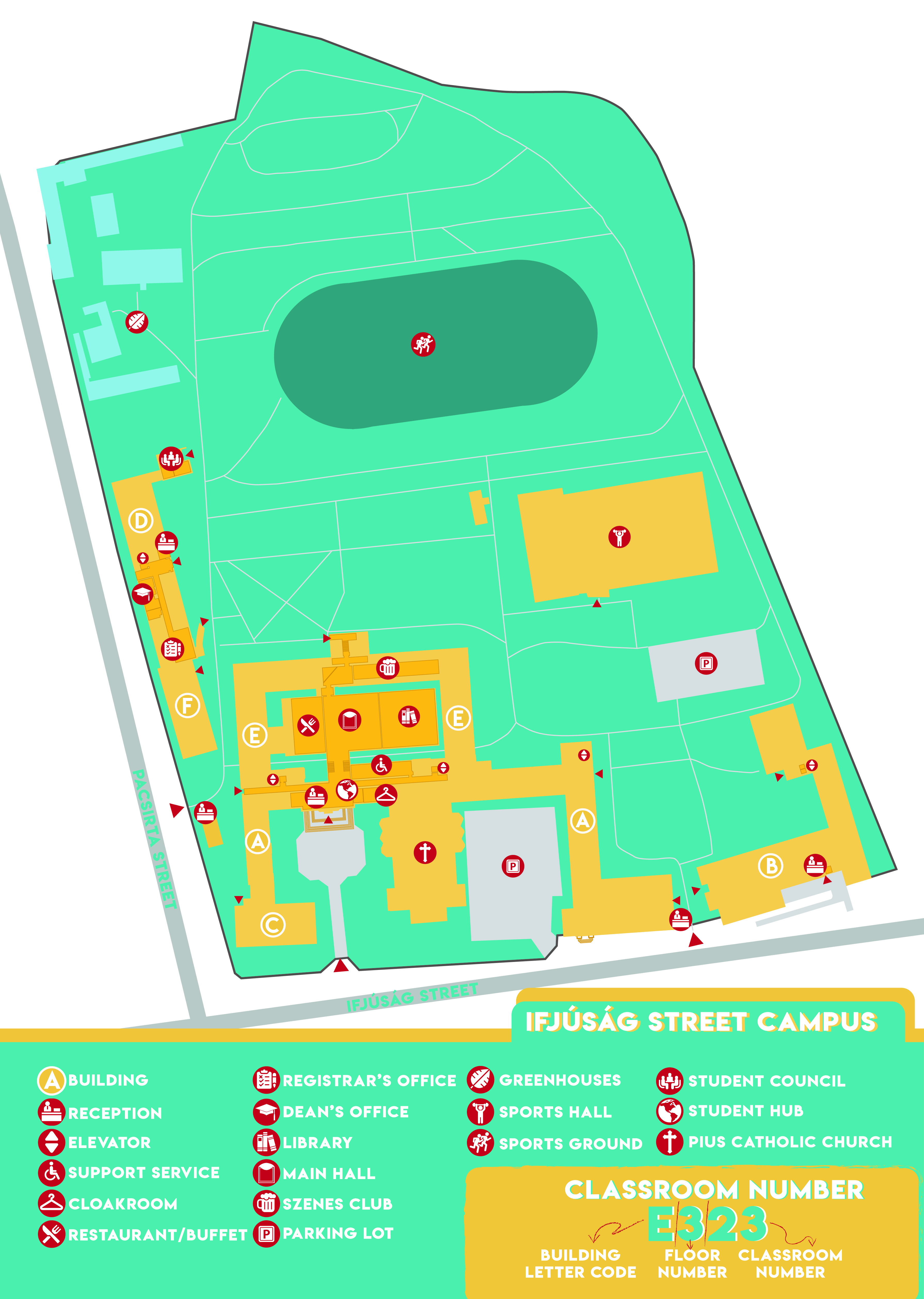 The Ifjúság street campus is home to most of the training programmes offered by the Faculty of Humanities and Social Sciences. The complex is made up of six buildings, labelled A, B, C, D, E, F. 
Buildings A and E

The main building of the campus. Its winding corridors often make you feel as if you have entered Hogwarts. The main building is home to the faculty library, the Pacsirta restaurant and the Szenes club, where you can relax between classes during the day and in the evenings - especially on Mondays - you can get to know Pécs' iconic party venue. Also in this building you will find the cashier's office, where you can do your financial tasks related to your studies. 
Right next to the main entrance is the Service Office "Szolgi", where you can make photocopies and print at student-friendly prices. Opposite is the Student Hub, where you can get help and information from fellow students during opening hours. 
Building D

The former dormitory is now home to the Faculty Office and some departments. The Registrar's Office, where you can meet your study administrator, Erasmus and Exchange Student administrator during their office hours, is accessed via the external staircase. The Dean's Office is also located here, where you can only enter by appointment.
Part of Building D is a separate small building where members of the Student Council can help you with your problems. 
Botanical garden
We're in the lucky position of having the amazing Botanical Garden on campus, which was declared a county nature reserve in 1989.
The 6.85-hectare garden currently has over 8,000 plant collections, of which around 5,000 are in the outdoor collections and around 3,000 in the greenhouses. The number of protected or specially protected species is 350. 60 of the 66 animal species observed in the garden are protected.
You can even buy plants during opening hours.