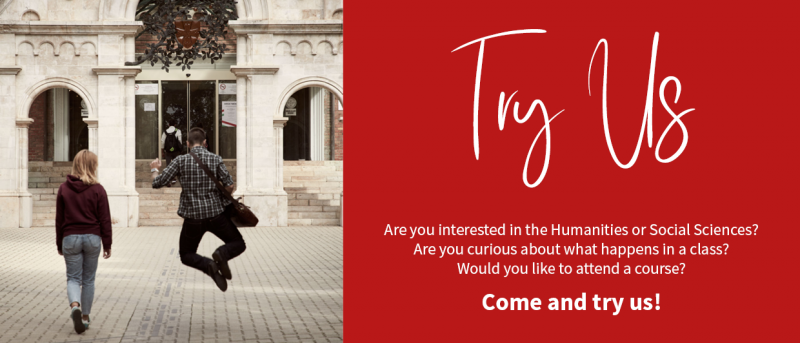 We are glad to inform you that the Faculty of Humanities introduces a brand new programme called "Try Us!" It is available for any of the international students attending a preparatory course at the University of Pécs.
What is "Try Us!"?
We offer courses for international students of any preparatory course at University of Pécs without official enrolment to the Faculty of Humanities and paying any tuition fee.
If the participant attends a class regularly, fulfils the course requirements (receives a grade and credits at the end of a course), he / she has the opportunity to ask for the recognition of the course if he / she becomes a full-time student of the Faculty of Humanities.
Please note! The participation in the programme does not result in automatic admission to the Faculty of Humanities.
What shall you know about the courses?
The courses are introductory courses, belong to the courses recommended to our first-year students.
Special knowledge of the chosen field of studies is not needed.
The courses start from 3rd February 2020.
Programmes offered:
Social Work BA
International Relations BA
Psychology BA
English Studies BA
Pedagogy BA
Communication BA
You can find the course list attached.
What shall you know about the course requirements?
regular class attendance is compulsory, so no more than 3 missed classes are acceptable
exam requirements are defined by the tutor of the course.
Even if you are not able to meet the minimum requirements of the course you do not lose anything.
What can you get in return?
an official certificate about the completed course
test yourself
test the programmes of the Faculty of Humanities as well
improve your English
meet our professors
taste the feeling of our Faculty of Humanities
How can you register for the courses?
Please fill in the attached application form and send it back to student.humanities@pte.hu 3rd February 2020 by the latest.
Do not forget to sign it, because you have to certify that you accepted the conditions of the participating.
What do we expect from "Try Us!" programme?
Our goal is to enable those who are interested to select from the Humanities and Social Sciences programmes of the Faculty of Humanities more confidently. We believe that it is easier to make a good decision if you have previous insight and background knowledge in advance.
Do you have any further questions? Do not hesitate to contact us!
Ms Edina Jakabfi
Registrar's Office Faculty of Humanities
The doors of the Faculty of Humanities are open. Let's try us for a semester!
YOU CAN FIND THE APPLICATION FORM AND THE COURSE LIST IN THE ATTACHMENT!